Yeast Fermentate for All Classes of Livestock
ProBiotein® is a multi-prebiotic, postbiotic and protein source, made from small grains. These grains are fermented to remove the starches, concentrate the proteins, provide nutritional yeast and prebiotic plant fibers. ProBiotein's five prebiotic fibers are AXOS (arabino-xylo oligosaccharide), MOS (mannan oligosaccharide) XOS (xylo oligosaccharide), FOS (fructo oligosaccharide), and Beta-glucan. ProBiotein also features a broad amino acid profile and Omega3 from flax.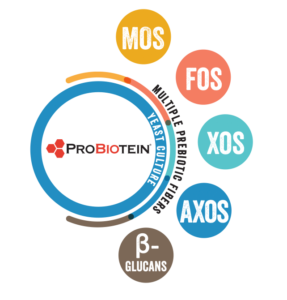 ProBiotein is featured in all SweetPro products.
Cattle · Poultry · Sheep · Swine · Horses
For more information contact:
brad.thornberg@probiotein.com / 888.229.0475